Getting your business ranked on Google
This blog post is about getting your business on Google without a website. It is not a how-to guide but more about making the case for using Google My Business. I will include some links to sources of info at the end of the article that will help you create a profile.
Google is, by a country mile, the most dominant search engine in the world. About 90% of the world's search activity takes place on Google. Hence, it's a big deal if you can get on Page 1 or even up to position 1 on Page 1. And, hence, hence… (if that's a thing)… reports of search engine optimization's (SEO) death have been greatly exaggerated. More on that another time.
We normally associate SEO with a company that is trying to get content from its website to rank in the search engine results page (SERP).
But what if I told you you could get onto Page 1 of Google without SEO… or without a website even…
'What sort of dark arts are these?' I hear you say or tweet… Well, it's Google as well, actually. 
Google My Business
So committed is Google to cannibalizing the SERP with no-click searches that they will provide you info from a source that doesn't even have a website.
Yep, you read that right.
You can display on page 1 of the SERP without a website if you use a Google product called Google My Business.
Google has been pretty good at spreading the love across the digital marketing community in Ireland. They ran a Breakfast Briefing series for a few years. That's now been replaced by the #DigitalGarage sessions. This post is based on all the good stuff I learned at a recent one (7th February 2020).
There were two motivations for this blog post.
I like writing about digital marketing and I thought Google My Business is a powerful tool that small businesses could use.
The rest of this article is based off the tweets I sent from the event. I used the Threader App to help kick-start the content creation process. (I've edited the tweet text as I don't need to stick to the 280 characters).
Is Google My Business worth it?
As I mentioned above, these events are aimed at helping businesses grow using digital channels. The event was held in the Google European HQ in Dublin for the first SMB session for 2020
This session was on @GoogleMyBiz, which is a good entry point for building an online presence for your business.
For an SMB that is a destination, a venue or is a hospitality location then Google My Business is a great way to appear in SERPs even if you don't have a website.
The main reason it is particularly useful is that it can help your business appear in a search for a "pub/hotel/coffee shop/restaurant near me" on a mobile device. 
Google My Business information appears in the Knowledge Panel on the top righthand side of the desktop SERP or the first thing you see in a mobile search as you can see in the image below.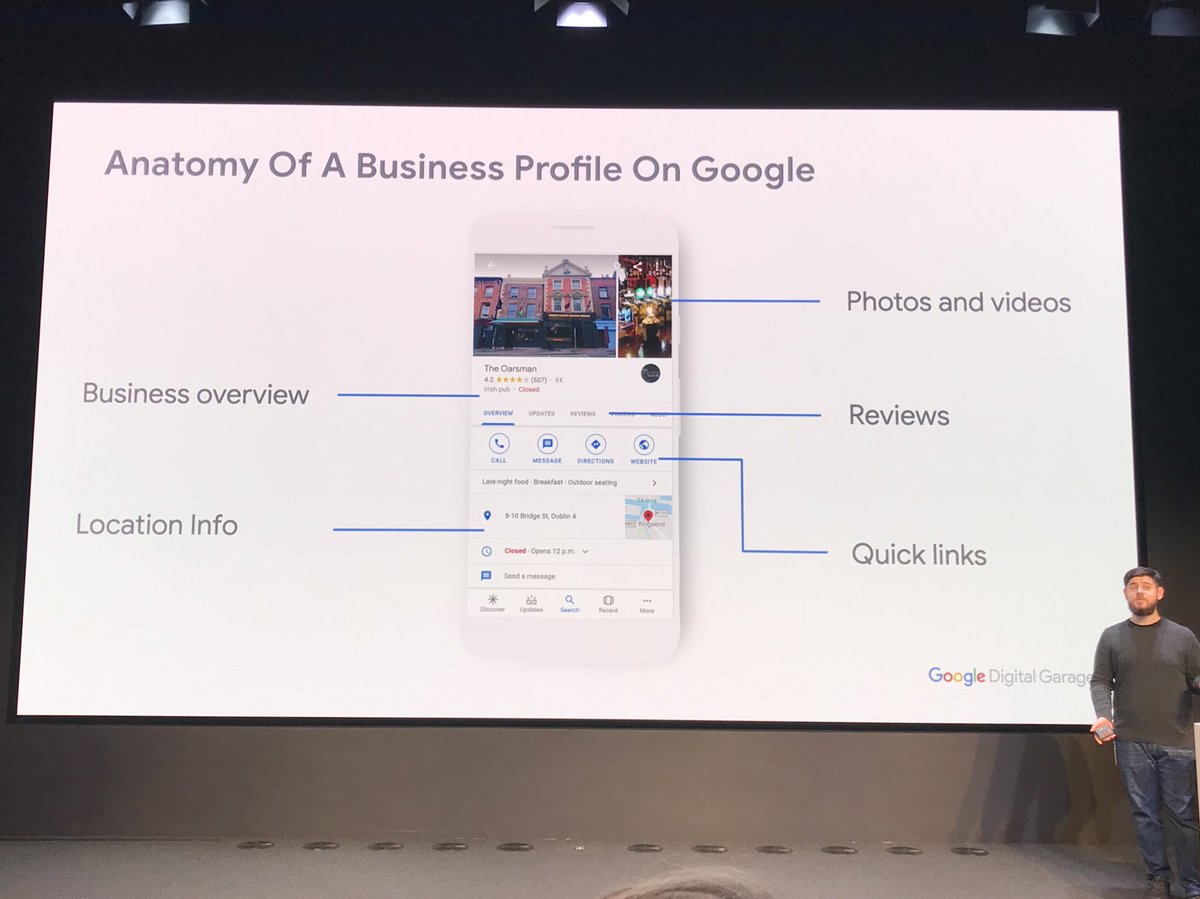 Getting started on Google My Business
Verify your business address
The first thing you need to do is verify your business address on Google My Business. This, in turn, will also connect to Google Maps. 
Why connect to Google Maps?
When serving results from Google Maps in the SERP, Google looks for
Relevance –  to the keyword/search term used
Distance – from the searcher to your business
Prominence – how widely known the business is
Google Maps is important for your business because 30% of all Google searches on mobile are related to a location.
For example, if a person uses a "coffee shop near me", Google will look for a business matching the description 'coffee shop', that is near the location of the searcher and will give preference to links with activity or interaction that confirm it is a good result to show the searcher. 
In other words, if you have a fully completed Google My Business Profile that is updated regularly it will improve your presence in Google Maps and the SERP.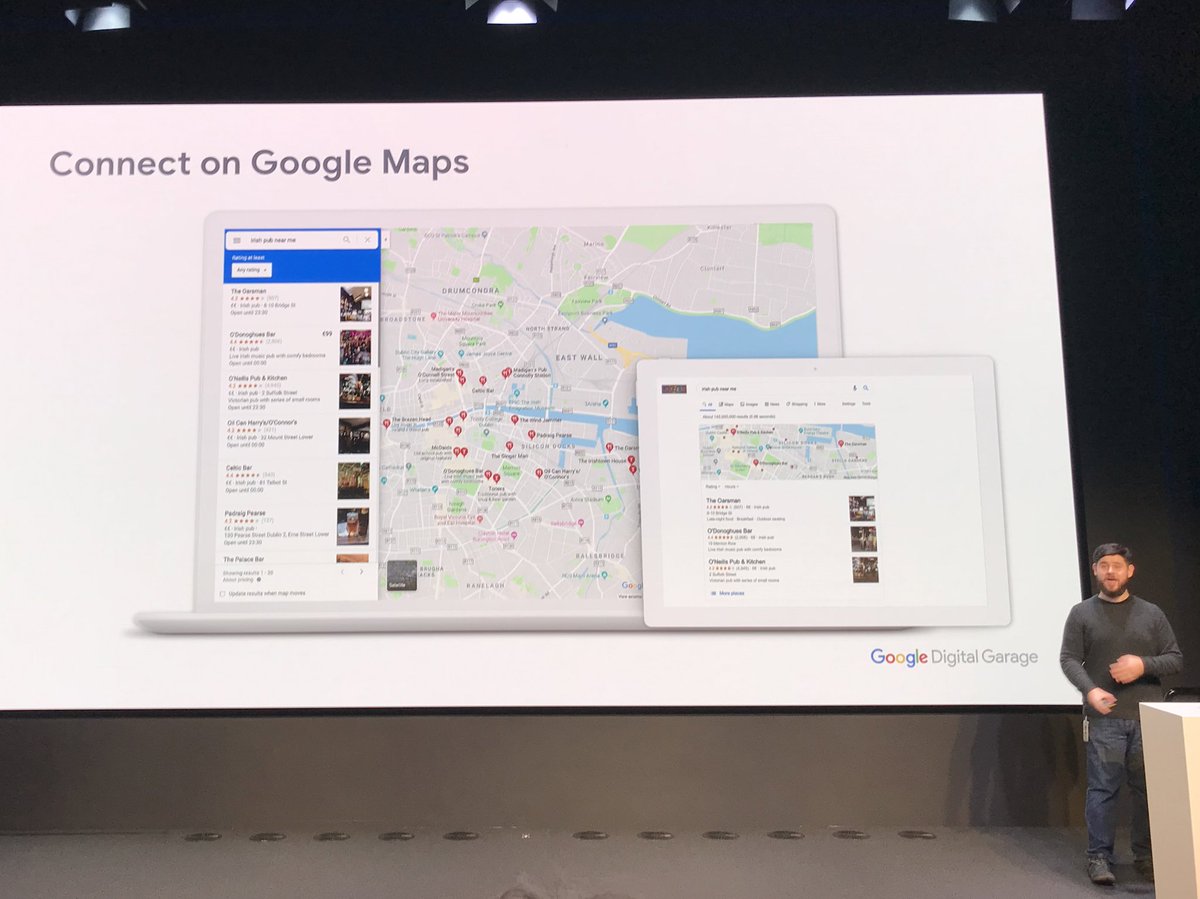 Get your business found across all devices
Of course, your Google My Business profile will serve across all devices. Typically, a 'near me' search is performed when you are out and about, and therefore most likely on a mobile device. That equates to someone looking for your product/service right then and there.
The best thing about Google My Business (GMB) is the ability to appear in organic searches without having a website.
75% of people search before they buy and 70% of those searchers tend to buy from the business they found via the search engine.
Once you have a GMB profile set-up the properly, you can engage with potential and existing customers in a two-way conversation. There are a number of ways you can do this, which include:
You can update your Google My Business profile with the latest info on your business – opening hours, actual address or eircode.
You can create a call-link so people can contact you in one tap.
You can send and receive messages.
You can also link to booking engines (like OpenTable) to facilitate e-commerce.
You can create posts with images to let people know about any news, new products, special offers and anything else that's going on at your business.
You can build out a Questions & Answers section.
On Google, a picture is worth a 1,000 words
While some of this seems like information people would know, 54% who were looking for a local business was searching for opening hours. Equally, adding some good quality photos to your GMB profile may seem like a vanity exercise but businesses with photos get 40% more requests for directions and 90% of customers are more likely to visit a business when images appear in Google Maps results page.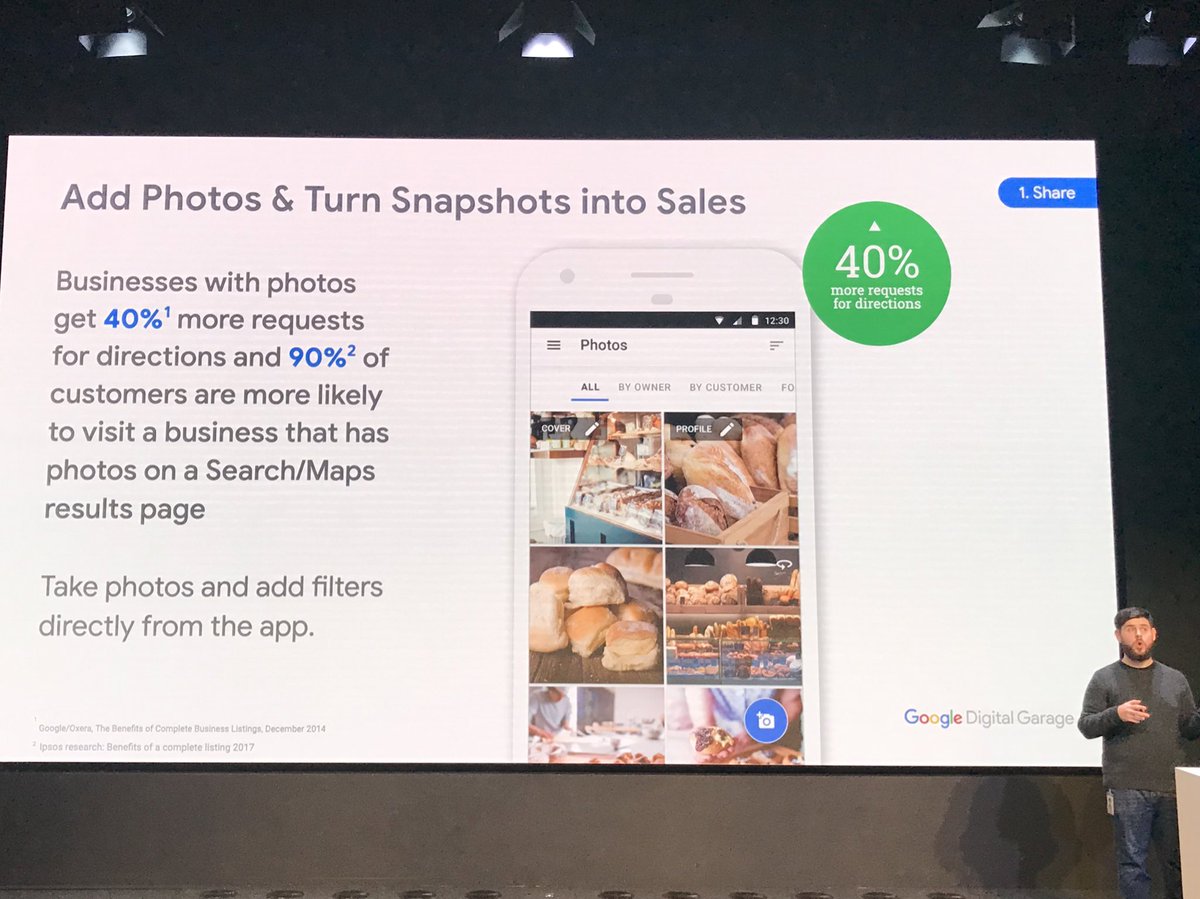 GMB: A pseudo-social feed
A good way to think about posts on your GMB is like a mini-social feed that is search friendly. For example, if you have an active Instagram account your already creating visually appealing content. If Instagram is for the images of 'our best lives' then these could and should be repurposed/reposted on your GMB profile. You can use your posts for such things as:
Announcements related to your business – eg. extended opening hours, new product lines, supporting a charity.
Events -eg.  tastings, product launches, sports broadcast, talks
Special offers – discounts, product lines ending, early-bird offers
Business info – updated contact details, staff news, new payment methods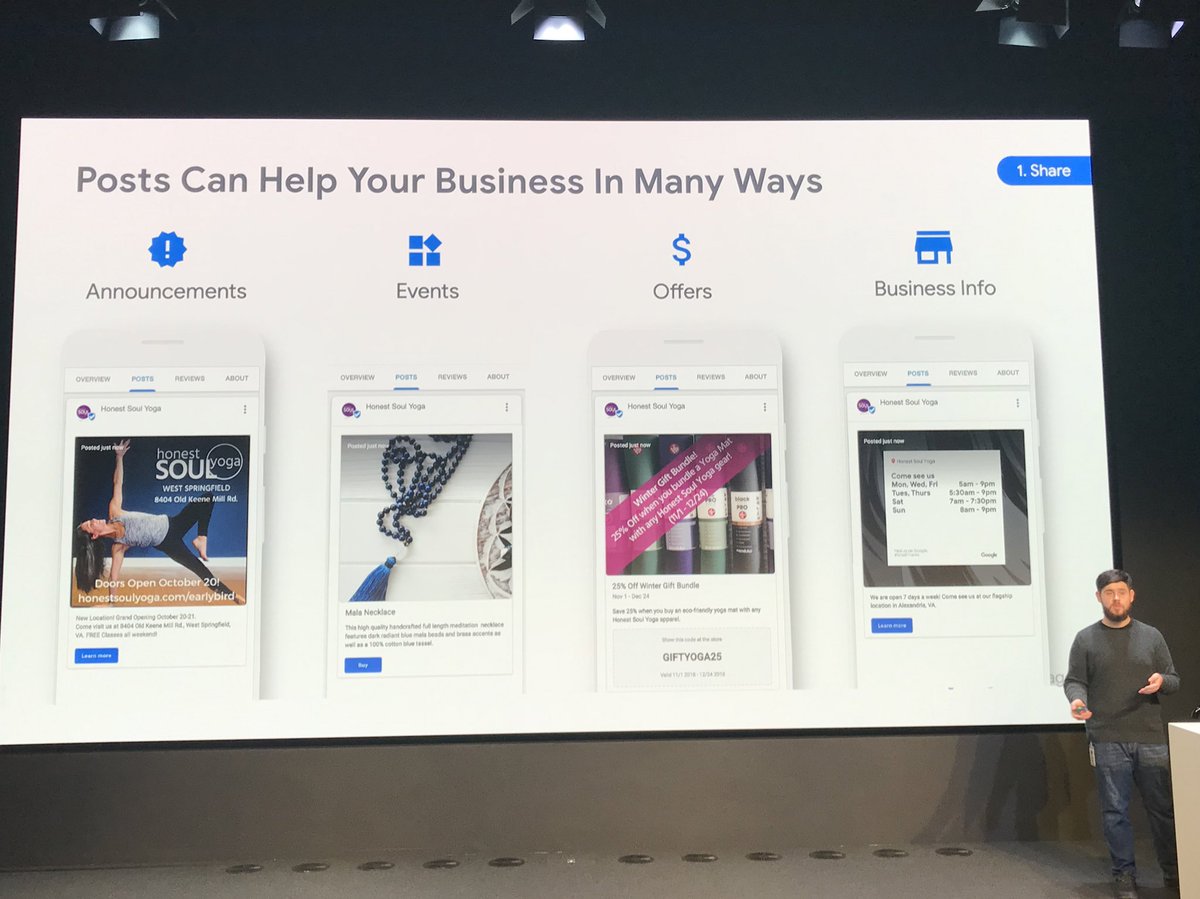 Does Google offer free websites?
TL;DR – Yes.
From your Google My Business profile, you can set up a mini-website for free. 
Obviously, being free they are not going to be a bells-and-whistles style website. But, they'd certainly be a good way of dipping your toe into the world of websites.
 Your address will be something like https://YourBizName.business.pages but you can register a proper domain if you'd prefer. In your GMB profile, if you go to the 'Website' option you'll be taken to the website builder and create your own there for free.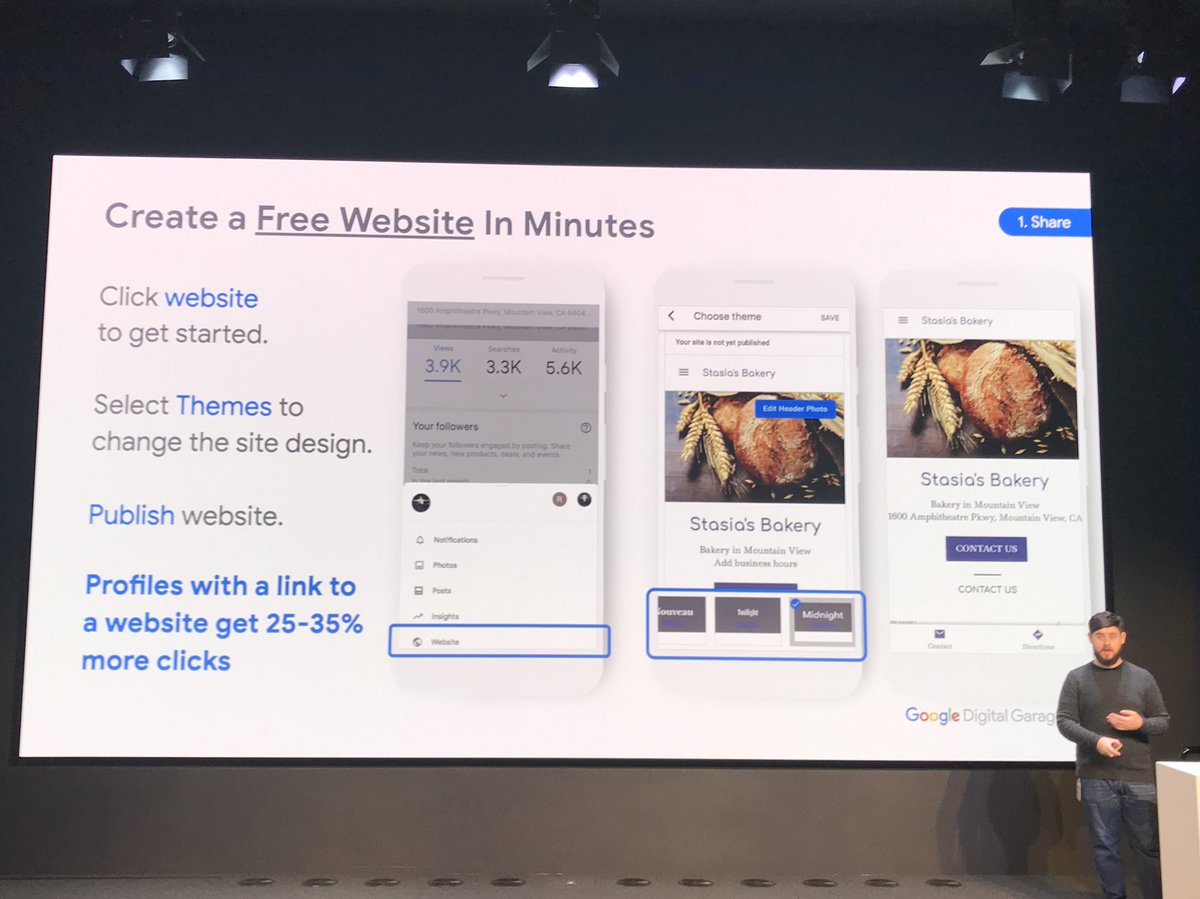 What should you do next? Go ahead, and set up a Google My Business profile.
How to set up a Google My Business Profile from scratch
At this Google event, I asked the presenter if GMB was more suitable for a small to medium business that lacked any SEO capabilities. Oleksiy was adamant that businesses of any size would benefit from a GMB account. He said even if a large company, with an in-house SEO team that had applied schema markup to their website, could still get the benefit from using Google My Business as well.
There are already lots of great resources on how to create a Google my Business profile so rather than reinvent the wheel, here are some particularly good guides.